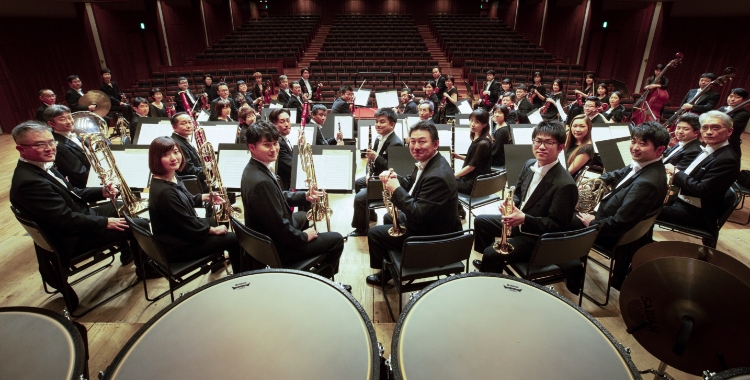 RESOUNDS FROM YAMAGATA
Led by Principal Conductor BAN Tetsuro, Principal Guest Conductor SUZUKI Hidemi, Founding Honorary Conductor MURAKAWA Chiaki, Conductor Laureate IIMORI Norichika, Honorary Conductor KUROIWA Hideomi, and Composer in Residence NISHIMURA Akira, the Yamagata Symphony Orchestra performs almost 150 times a year including regular subscription concerts, special concerts, request concerts, school concerts, and various other concerts, as well as television and radio performances. Performing with natural brass instruments for classical period works is one of YSO's special characteristics.
The history of the Yamagata Symphony Orchestra dates back to 1971 when a preparatory orchestra was formed under the Conductor MURAKAWA Chiaki. It became the very first professional orchestra in northeastern Japan in January 1972. In August of the same year the Yamagata Symphony Association was formed as the managing organization for the orchestra, and subscription concert started in September. The orchestra's activities were expanded to all six prefectures in northeastern Japan, and Niigata prefecture as well.
Since YSO held its first Tokyo performance at Suntory Hall in 1987, YSO has regularly performed in Tokyo - "Sakuranbo (Cherry) Concert" at Tokyo Opera City Concert Hall every June since 2003, and also in Osaka since 2012 when its activities were expanded to the Kansai area. In July 1991 YSO made its first overseas debut to participate in the Colorado Music Festival in Colorado, U.S.A.
The projects with maestro Iimori made "Iimori & YSO"'s name widely known to the whole country and lead to the release of the Japanese orchestra's first original CD label "YSO live" in 2006 which has garnered high praise. YSO also had performed and recorded all of Mozart's symphonies at the subscription concert series called "Voyage to Amadeus" for 8 and a half years from 2007 to 2015 and performed in the film "Okuribito (Departures)" which won an Academy Award in 2008.
In following years YSO received prestigious awards one after another including the Yamagata Prefecture Culture Meeting Award (1978), the Mokichi Saito Culture Award (1978), the Kahoku Culture Award (1979), the Suntory Regional Culture Award (2001), and the Regional Cultural Merits Award (2007).
YSO released the CD "Mozart: The Complete Symphonies" in 2017. In June 2020, YSO started the concert series (online streaming and DVD production) of Beethoven's all symphonies conducted by BAN Tetsuro. YSO celebrates its 50th anniversary in 2022.

Principal Conductor Tetsuro BAN | Principal Guest Conductor Hidemi SUZUKI | Founding Honorary Conductor Chiaki MURAKAWA| Conductor Laureate Norichika IIMORI | Honorary Conductor Hideomi KUROIWA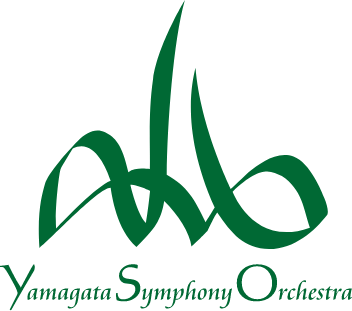 ABOUT THE YSO LOGO
The YSO logo represents a mountain with the path of a conductor's baton and uses the color green to evoke the natural environment of Yamagata.
The logo was created on 19th August 2004. The design was selected from entries submitted online from all over Japan. Designer Tsuguharu Tahara's submission was selected, and Professor Yuji Baba of Tohoku University of Art & Design (now Professor Emeritus) supplemented his own work for use.
CONDUCTORS
Principal Conductor

Tetsuro BAN

Tetsuro
Ban

Principal Conductor

General Music Director of the Theater Regensburg in Germany since 2009/10

Tetsuro Ban's successful career is characterized by his extensive guest conducting across Europe, where he has been invited by around 40 orchestras and opera houses in Germany, Austria, France, Italy and elsewhere. He has conducted most of the major orchestras in Japan, including the NHK Symphony Orchestra, and opera companies such as the New National Theatre Tokyo and Tokyo Nikikai.

In winter 2008-09 he conducted a run of Die Fledermaus at the Vienna Volksoper which became the main attraction of the season, receiving great critical acclaim. The headline of the local website for opera "Operinwien" read "Gelungene Silvesterstimmung", and praised the performance saying the following.

He has conducted many operas including Falstaff, Carmen, Pelleas and Melisande, The Tales of Hoffmann, Cavalleria Rusticana, Pagliacci, and Orphee aux enfers, at venues like the Vienna Volksoper, Staatstheater Stuttgart, Theater Basel in Switzerland, and the New National Theatre. His conducting career, already established in Germany, has continued to attract wider attention through his concerts and operas in Europe.

Born in Kyoto, Ban studied composition with renowned composers like Ryohei Hirose at the Kyoto Municipal Art Academy. After graduation, he started his studies in conducting under professors Karl Oesterreicher, Leopold Hager, and Yuji Yuasa at the University of Music and Performing Arts in Vienna.

Ban was 1st Kapellmeister at the Theater Biel, Switzerland during the 1992 - 93 season, 1st Kapellmeister at the Brandenburg Theater, Germany in the 1997 - 98 season and became Kappelmeister at the Komische Oper Berlin in the 1998 - 99 season. Between his appointment and July 2002, he conducted more than 170 performances of around 20 operas and concerts, including Orfeo ed Euridice in a new production by Harry Kupfer in 1999, Falstaff as directed by Andreas Homoki in 2000, and Rigoletto, in a new production by Martin Schuler in February 2001.

He was appointed General Music Director at the Theater Eisenach in Germany beginning in the 2005-2006 season, and Principal Guest Conductor of the Yamagata Symphony Orchestra from April 2007, becoming General Music Director of the Theater Regensburg starting in the 2009 - 2010 season.

He won the First Prize in the Besancon International Conductor's Competition in France in 1995, received honorable mention at the Kyoto Cultural Awards in 1996, the ABC Asahi Broadcasting Corporation International Music Award in 1997, the Kyoto City New Artist Award and the Second Hotel Okura Music Award in 2000, the 12th Akio Watanabe Music Foundation Award in 2004, and the 26th Kenichiro Todo Music Award in 2006.

Principal Guest Conductor

Hidemi SUZUKI

Hidemi
SUZUKI

Principal Guest Conductor

Born in Kobe. Performed and taught in various countries in Europe and Asia while he lived in Holland and Belgium in the last 16 years of the 20th century. He was the first baroque-cello professor of the Royal Conservatory of Brussels from 1994 until his return to Japan in 2000. He was a member of the 18th Century (1985-93) and of La Petite Bande (1986-2001, principal cellist from 1991), and a founding member and principal cellist of Bach Collegium Japan until 2014.

He founded Orchestra Libera Classica in 2001, performing and recording classical music, especially that of Joseph Haydn's. Recordings are released from his own label, Arte dell'arco. Invited as a conductor and as a soloist to various countries. He teaches at the Early Music department of Tokyo National University of the Arts, and a guest professor of the cello department of the Tokyo College of Music. His books are: 'Farewell, 'Ancient instruments'! (Kogakki-yo, saraba!)', 'Gut Café', and 'Unaccompanied cello suites (a detailed explanation of Bach's suite). He was awarded the 37th Suntory Music Award and Hideo Saito Memorial Fund Award in 2011. He is the chief guest conductor of Yamagata Symphony Orchestra since 2013, the music director of the Kobe-city Chamber Orchestra since 2021, and has now been invited to number of orchestras in Japan. Member of "Rakuyu-kai" string quartet, and a board member of the Beethovenkreis, Japan.

Music Partner

Radek BABORAK

Radek
BABORAK

Music Partner

The horn player and conductor Radek Baborák is one of the most outstanding figures on the classical music scene. Since beginning his solo career over twenty-five years ago, his extraordinary musical performances have enthralled audiences in the most important cultural venues around the world. He has collaborated with many distinguished conductors, including Daniel Barenboim, Seiji Ozawa, Simon Rattle, Neeme Järvi, James Levine, Vladimir Askhenazy, James de Priest and Marek Janowski.

Baborák is a regular guest at prestigious festivals such as the: Salzburger Osterfestspiele; Maggio musicale, Fiorentino; Pacific Music Festival; the White Nights Festival, St.Petersburg; the Chamber Music Garden, Suntory Hall; International Music Festival, Utrecht; Julian Rachlin and Friends, Dubrovník; Le Pontes; Jerusalem Chamber Music Festival; Smetana's Litomyšl and Prague Spring.

His concerts have been broadcast by television and radio stations including: Euro Arts, BR, ARD, NHK, CT, RTVE and he has made recordings for EMI, Supraphon, Exton, Arte Nova, Artesmon and Animal Music.

Between 2003-2010, Baborák held the post of principal horn at the Berlin Philharmonic. He also appeared as a soloist with the orchestra, performing alongside Ian Bostridge and conducter Simon Rattle (Britten, the Serenade for Tenor, Horn and Strings), at the Prague Estate Theatre with Daniel Barenboim (Mozart, Concerto in D-Major), at the Berlin Philharmonic Hall (Schumann, Concertpiece for Four Horns) and with the conductor Dmitri Kitajenko (Gliere, Concerto in B-Major).

The opening concert of the Olympic Games in Nagano marked the beginning of a long-term collaboration with Maestro Seiji Ozawa. Baborák became a member of the Saito Kinen Orchestra and Mito Chamber Orchestra, and regularly gives concerts with them in Japan, USA and Europe. With their chief conductor Maestro Ozawa, Baborák recorded the complete set of Mozart horn concertos and the Sinfonia Concertante (Sony), and as a soloist/conductor he also performed compositions by Haydn, Rosseti, Hosokawa, Mozart, Britten and others. When on a European tour with the Mito Chamber Orchestra, Baborák was asked by members of the orchestra to step in for the indisposed Seiji Ozawa and thus his career as conductor was launched.

Radek Baborák has performed as a soloist with the following orchestras: the Berlin Philharmonic, Munich Philharmonic, Bavarian Radio Symphony Orchestra, Deutsches Symphonie-Orchester Berlin, RSB Berlin, Bamberg Symphony, Bach Akademie Stuttgart, Berlin Baroque Soloists, Radio France Lyon, Orchestre de la Suisse Romande Geneva, Philharmonique de Strassbourg, Finnish Radio Orchestra Helsinki, St. Petersburg Philharmonic Orchestra, Moscow Philhramonic Orchestra, Royal Philharmonic Orchestra, Tonkünstler Orchestra Vienna, Mozarteum Salzburg, Franz Liszt Chamber Orchestra, Mito Chamber Orchestra, Saito Kinen Orchestra, NHK Symphony Orchestra Tokyo, RTVE Orchestra Madrid, and Arthur Rubinstein Lodz Philharmonic.

Baborák is especially popular in Japan; since 1994 he has been on regular tours in the country, playing with the NHK Symphony Orchestra Tokyo, Tokyo Metropolitan Orchestra, The Yomiuri Nippon Symphony Orchestra, Tokyo Philharmonic Orchestra, New Japan Philharmonic, Osaka Symphony Orchestra and in many Japanese cities (Nagoya, Kitakyushu, Nagasaki) and prominent venues, including Suntory Hall, Tokyo Bunka Kaikan, Sapporo Concert Hall Kitara and Kioi Hall.

Over a period of ten years, Baborák has recorded more than twenty CDs for the Japanese label Octavia Records (Exton,Cryston), among them music by J.S.Bach, which reached tens of thousands of listeners. The Baborák Ensemble CD received the Japanese critics' prize. The recording of arrangements of Anton Bruckner's compositions (Bruckner in Cathedral I, II) by the Czech Horn Chorus, with the organist Aleš Bárta, and under the leadership of Miloš Bok, was received with great enthusiasm. Among other releases are: Baborák's recital with the pianist Yoko Kikuchi (Beethoven and French music) with the harpist Naoko Yoshino (Réve) and solo CDs (Baborák Plays Etudes, The New Dimension), Mozart's and Haydn's Symphonies (Prague, Clock, Noon, Symphony in G-minor) and horn concertos with the Czech Sinfonietta Orchestra where Baborák took up the role of conductor.

An essential part of Radek Baborák's musical life is chamber music. He founded and has been the leader of several ensembles: the Baborák Ensemble, in principal consisting of french horn and string quartet; the Czech Horn Chorus, which continues the 300 year-old tradition of horn playing in the Czech Lands; and the string ensemble Prague Chamber Soloists, whose founding in 1960 is linked with Václav Neumann. He is a member of the Afflatus Quintet, which received first prize at the ARD competition in Munich in 1997. Baborák plays in recitals with the pianist Yoko Kukuchi - the winner of the Mozart Competition in Salzburg, with the organist Aleš Bárta and harpist Jana Boušková. He is a member of Berlin-Munich-Vienna Oktett and collaborates with the Berlin Baroque Soloists.

As a chamber musician he is regularly invited to collaborate with outstanding musicians and personalities, including the pianists Yefim Bronfman, Andras Schiff, Itamar Golan, Denis Kozhukhin, Rudolf Buchbinder, Gerhard Oppitz; violinists Julian Rachlin, Janine Jansen, Guy Braunstein, Daishin Kashimoto, Lorenz Nasturica, Boris Brovtsyn; the cellist Julian Steckel, flautist Emmanuel Pahud, oboe players Albrecht Mayer and Francois Leleux; singers Ian Bostridge, Thomas Quasthoff and Waltraud Mayer.

Radek Baborák had been a senior lecturer at the Fondazione Arturo Toscanini in Parma and holds the position of guest professor at TOHO University Tokyo, Escuela Superior de Música Reina Sofia and teaches at the Academy of Music in Prague. He has led horn courses in Germany and Switzerland.

Radek Baborák was born in Pardubice in 1976 into a musical family. At the age of eight he started learning the horn with Prof. Karel Křenek. Under his leadership he became the overall winner of the Prague Radio Competition Concertino Praga, received third prize at the Prague Spring Competition, first prize in the Competition for Interpreters of Contemporary Music and became laureate of the Grand Prix Unesco.

Between 1990-1994 he continued his studies at the Prague Conservatoire in Prof. Bedřich Tylšar's class. During his studies he won competitions in Geneva in 1993, Markneukirchen in 1994 and ARD in Munich in 1994. In 1995 he was awarded the Grammy Award Classic and the Dawidov Prize.

At the age of eighteen Baborák was appointed principal horn with the Czech Philharmonic, rather exceptionally without any audition, and he remained in the post for two years. In 1996-2000 he was principal horn with the Munich Philharmonic. In 2001 he signed an exclusive contract with the Bamberg Symphony. Baborák's post with the Berlin Philharmonic in the years 2003-2010 represents the last chapter of his career as an orchestra player.
Founding Honorary Conductor

Chiaki MURAKAWA

Chiaki
MURAKAWA

Founding Honorary Conductor

Chiaki Murakawa graduated from the Department of Composition at the Tokyo National University of Fine Arts and Music. In 1963, he moved to the U.S. to study conducting at the Graduate School of Indiana University, where he worked as an assistant in the theory department and received his Master of Music degree. He also pursued further studies in New York under Leopold Stokowski. He returned to Japan in 1966 and made his debut as a conductor at the Tokyo Symphony Orchestra in September of the same year. Since then, he has conducted the Tokyo Symphony Orchestra, the Sapporo Symphony Orchestra, the Japan Philharmonic Orchestra, the Kyoto Symphony Orchestra, and various other orchestras.

He was appointed a lecturer at the Department of Conducting, Tokyo College of Music, in 1968. In 1972, he founded the Yamagata Symphony Orchestra as its Music Director and Permanent Conductor. He has received prestigious awards, including the Yamagata Prefecture Educational Merit Award (1992), the Watanabe Akio Music Foundation Special Award (1994), the Saito Mokichi Cultural Award (1995), and the Regional Cultural Contributors Award (2004).

He is currently Founding Honorary Conductor and a Japan String Teachers Association member.

Conductor Laureate

Norichika IIMORI

Norichika
IIMORI

Conductor Laureate

Norichika Iimori graduated from the conducting course of the Toho Gakuen School of Music. After studying in Berlin and Munich, beginning in 1994 he held successive posts including Resident Conductor of the Tokyo Symphony Orchestra, Guest Conductor of the Tchaikovsky Symphony Orchestra of Moscow Radio, and Resident Conductor of the Hiroshima Symphony Orchestra. In 1996 he led the European tour of the Tokyo Symphony Orchestra and was lauded in a newspaper which said, "Iimori will surely go on to attract international attention." In 2003, in his first appearance in a subscription concert of the NHK Symphony Orchestra, Iimori conducted a successful performance of Mahler's 1st Symphony. In 2006 he was awarded the "Art Encouragement Prize for New Artists" from the Japanese Ministry of Education, Culture, Sports, Science and Technology. Iimori has been invited to conduct many world-class orchestras including the Radio Symphony Orchestra Frankfurt, Cologne Radio Symphony Orchestra, Czech Philharmonic, and Prague Symphony Orchestra. In 2001 he became General Music Director of the Württemberg Philharmonic Orchestra, with which he recorded the complete Beethoven Symphonies and carried out a successful Japan tour in 2006.

In 2016 Iimori recorded "Mozart: The Complete Symphonies" with the Yamagata Symphony Orchestra, one of the few recordings of the composer's complete symphonies in the world and the first in Japan. He is currently making a recording of "The Complete Haydn Symphonies" with the Japan Century Symphony Orchestra.

Currently, Norichika Iimori is Music Director of the Pacific Philharmonia Tokyo, Principal Conductor of the Japan Century Symphony Orchestra, Conductor Laureate of the Yamagata Symphony Orchestra, Principal Conductor of the Izumi Sinfonietta Osaka, Principal Guest Conductor of the Württemberg Philharmonic Orchestra, Principal Guest Conductor of the Tokyo Kosei Wind Orchestra, and Principal Guest Conductor of the Chubu Philharmonic Orchestra. In April 2023, he will become Principal Conductor of the Gunma Symphony Orchestra.

Honorary Conductor

Hideomi KUROIWA

Hideomi
KUROIWA

Honorary conductor

Born in Tokyo, Hideomi Kuroiwa entered the prestigious Toho Gakuen School of Music, studying conducting under the late Hideo Saito. During that time, he distinguished himself with a wide range of activities - conducting the school orchestra, appearing on stage, in the media (including on NHK Television as a violist) and performing as pianist in many concerts.

After graduating in 1965, he was featured as 'young artist of the year' on NHK television. In that same year, he made a decision to become a monk, and led a life in a monastery until 1975. It was there that he devoted himself into the study of theology, philosophy, latin, Gregorian chant, polyphony, and conducted and composed liturgical music.

In 1976, Mr. Kuroiwa returned to the classical music world and after conducting the Tokyo Metropolitan Symphony Orchestra was hailed as "a new star showing quality that has not been seen for a long while." In order to pursue further studies, he participated as Koussevitzky Memorial Fellowship Conductor at the Berkshire Music Centre in the summer of 1978.

Mr. Kuroiwa has appeared regularly in subscription concerts with most major orchestras across Japan, such as the Kansai Philharmonic, Sapporo Symphony, Nagoya Philharmonic, Kyushu Symphony.

Inspired by his personal faith as a Christian, Mr. Kuroiwa is deeply drawn to religious music, and his performances of oratorios, requiems, and masses have received great praise for the passion of his music making. Early in 2000, his performance of Bach's St Matthew Passion at Tokyo Opera City Concert Hall in tribute to the composer's 250th anniversary was acclaimed as "the performance with a strong belief, which moved the hearts of those listening."

Mr. Kuroiwa has held positions with major orchestras such as: the position of the Chief Conductor of the Kyushu Symphony Orchestra between September 1981 and April 1988, as the Permanent Conductor for Kanagawa Philharmonic Orchestra and Kansai Philharmonic Orchestra between April 1988 and March 1994. He assumed the position of Music Director at Yamagata Symphony Orchestra between September 2001 and March 2004.

He is currently Assistant Professor at the Toho Gakuen School of Music in Tokyo.
ORCHESTRA MEMBERS

*

・・・

Principal
Solo Concertmaster
Kazutaka TAKAHASHI
Principal Concertmaster
Ari INUBUSHI
Concertmaster
Kairi HIRASAWA
1st Violin

Sayaka IGARASHI

Mariko ISHII

Shen Qing

Yasuko TOYODA

Mitsuyuki NAKAJIMA

Yukari HACHIYA

2nd Violin

Janne TATENO*

Mizuki HORIKOSHI*

Haruko IMAI

Kana KAWAMURA

Haru KUROSE

Ikuko TOKIWA

Tomoyo MARUYAMA

Viola

Hiroshi NARITA*

Yasuhito YAMANAKA*

Kenji IDO

Jo KURATA

Tomoko TANAKA

Cello

Kazuhisa OGAWA*

Rinako YAGUCHI*

Natsumi KURAKI

Xing Guang jing

Akihito MOGI

Kentaro WATANABE

Contrabass

Yoshitomo MISAKIYA*

Tomoyuki YANAGISAWA

Akiko YONEYAMA

Flute

Kakeru CHIKU*

Kyoko KOMATSUZAKI

Oboe

Yuta SHIBATA*

Clarinet

Ichido KAWAKAMI*

Yurie HONDA

Bassoon

Ken UENO*

Toshiya WASHIO

Horn

Kota UMEJIMA*

Kazuya OKAMOTO

Hisaki OGURA

Tomohiro SEKIYA

Trumpet

Naoki INOUE*

Kosuke MATSUOKA

Trombone

Ryohei OTA*

Yui SHINOZAKI

Bass Trombone

Tomohiro TAKAHASHI

Tuba

Kazunori KUBO*

Timpani & Percussion

Kazuo HIRASHITA

Chika MIHARA
Name
YAMAGATA SYMPHONY ASSOCIATION
President
Minoru SONOBE
Location
1-2-38 Futaba-cho, Yamagata city, Yamagata prefecture,
990-0828, Japan
TEL
+81(0)23-616-6606
FAX
+81(0)23-616-6608
Established
August 1972
1-2-38 Futaba-cho, Yamagata city, Yamagata prefecture,990-0828, Japan
Please use the "Kenmin Benibana Parking Lot" when coming to Yamagin Kenmin Hall.
*The first 30 minutes are free of charge.
E-MAILorchestra@yamakyo.or.jp
Operating hours:10:00~17:00

*except Saturdays, Sundays and national holidays
*Yamagin Kenmin Hall is closed on Tuesdays (or the weekday immediately following Tuesdays when Tuesdays are national holidays and is closed during the year-end and New Year's holidays.)